Post by Val on Aug 27, 2020 17:54:36 GMT -5
Grand Master Adel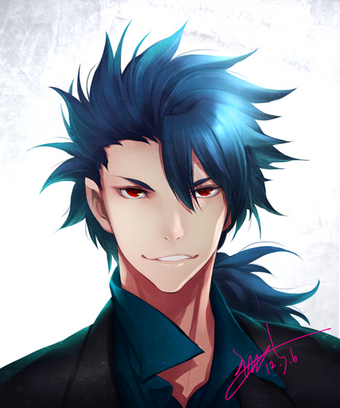 484/2,265
Just as the master had finally recovered his sight and could see clear shapes and people in objects , cloud of smoke seemed come out of nowhere. The cloud of smoke got in his lungs. "That trick isn't as amusing the second time kid." He stared him down as the smoke dissipated. The nuisance tried to take a shot at him with his blaster that did no more than bounce off his swirling cerulean, white, and red barrier in front of him. The next shot of the blaster bounced and was sent flying back toward the blond who seemed almost pleased with himself. The blond attempt his explosive trick a third time. Adel wasn't having it he stood his ground refused to back down. It didn't seem to bother him at all this time.
With the children's games out of the way, he began his own barrage of attacks. The raccoon creature seemed to be busy with Adel's new ally. So Adel focused his attack in on the blond. He began with an oldie but a goodie; this technique took a little bit of time which allowed him to recover the temporary loss of sight from the smoke. He allowed his key to fill him and swirling colors never seem to mix but always seemed to touch. This attack wouldn't necessarily touch the man physically but rather mentally it was released past potential and future potential as he was forced to relive previous battles and power up past his current capabilities. His power would take him from the inside out.
If that wasn't enough, Adel continued his reign of attacks on the blond. He sent energy blasts of white, red, and blue all seemed to mix but never truly fuse were shot from his palms in an attemptto shatter his opponent's strength or what little was left. As soon as the energy surge flowed towards him the master took deep breath and shot six shots of colorful Ki towards his opponent. He threw numerous attacks in hopes they would land, but also saving almost impossible for them to miss. This child had no idea what he was getting himself into now that the master was able to truly dive back into the fight. He called to the racoon tangled up with Adel's temporary ally, "You may want to take your friend and go, before the damage I cause to him and to
you
are irreversible."
He then pulled the prayer necklace back out from under his robes. He held it in his left hand, and in a whisper that was barely even audible, he let out a chant like prayer. He and hopefully is a ally would quickly realize the effects. Hopefully it be enough to make the fight last. He refused to give up this land. This was the land of his people. It was his home. It will remain his home.
---
Actions
Notes: Adel's True Strength (-6%)
Free: Take Smoke bomb[15% CE Blind] [R] DR 2 [Barrier Block 60 % | Reflect 50%] [Bane]
Free: Shisho Nuclear Shockwave
1.)
Adel's Nightmare Nightmare (1/3)
[ Ki Used: 0% ]
EXTRAS: Blind 1/1
2.)
Adel's Nightmare Nightmare (2/3)
[ Ki Used: 0% ]
EXTRAS:
3.)
Nightmare; DR 10.5 [PL: 3,321,587] (3/3) @bane
[ Ki Used: 16% ]
EXTRAS: [Undodgeable] [Only partially blockable] [CE: Confusion +10% effect]
4.)
Mastery of Ki: Energy Dan, 4.5 DR (0% Ki) Adel's Mouth Blast Barrage, DR 4.5 @bane
[ Ki Used: 1% ]
EXTRAS: [Undodgeable] [Only ]Partially blockable]
3.)
Jasper's Necklace (Heal)
[ Ki Used: 0% ]
EXTRAS: [Heals allies for 8% health and 25% Ki]
---
Attacks Taken Since Damage Report:

DR2: Bane
---
Stats
Power Level: 1,476,261 - 52,834 = 1,423,427
Ki: 765,696
Strength: 133,532
Speed: 151,016
Toughness: 180,950
Stamina: 222,139 - 26417 = 195,722
Vitality: 208,402
Determination: 13,000
Charisma: 10,300
Intelligence: 15,000
Health: 100.%
Ki: 96% [ 94 - 23 + 25]
Fatigue: 23.0% [ 23.0% | 765,696 x .23 = 176,110 x .15= -26417 Stamina]
---
PreparationsTechniques
:

Fundamentals:
Adel's Energy Wave
Adel's Double Energy Wave
Adel's Energy Dan
Adel's Blast Punch
Adel's Serafin Punch
Deflect
Kiai
Adel's Mouth Blast
Adel's Mouth Blast Barrage
Adel's Fire Breath
Adel's Dynamite Kick
Mastery of Ki

Advanced
Adel's Ion Blast
Adel's Rapid Ion Blast
Adel's Ice Blast
Adel's Banshee Blast
Adel's Renzoku Energy Dan
Adel's Hypnosis
Adel's Negative Arrows
Adel's Kiaiho

Power Ups:
Sage's Power Up
Sage's Depth
Sage's Opal Electricity
Sage's Barrier
Sage's Body Shield

Finishers:
Adel's Galactic Machine Gun
Adel's Nightmare
Arcane Mastery

Stance:
Adel's Wind Stance
Adel's Titan Stance

Specials:
Adel's Telekinesis
Adel's Telekinetic Mastery
Adel's Transmute Energy
Adel's Ice Spear
Adel's Fireball
Shishio

Rush:
Adel's Burst Rush
Adel's Meteor Impact

Passives:
Pure Power 3
Perseverance 3
Loyal 3

Super Forms:

Adel's Ascended Form
Adel's True Strength



---
Prepped Items:
Energizer
Ki Well
Double Dose Caffeine Shot
Super Potion
---
Battle Equipment

Head: Grand Master's Crown + Earrings of Lucidity (2/3)

Body: Grand Master's Battle Robe

Arms: Grand Master's Gloves

Legs: Grand Master's Pantaloons

Accessory: Jasper Necklace [Restores 25% Ki to allies in battle and 8% Health]

Accessory: Tome of the Grand Master [Restores Ki by 10%]

Accessory: Belt of the Sages [+10% Damage Reduction vs Ki Attacks]

---
NotesAdel's True Strength:
Increases all critical/inscription chances by a flat +10%. Also decreases chances of being hit by critical effects by a flat 10%. Allows you to re-roll a missed critical attempt in battle once. Allows you to re-roll a critical hit against you once.
All Ki attacks can only be partially blocked while this form is active.
Belt of the Sages:
+10% Damage Reduction vs Ki Attacks
Other Preparations
Speed Teleports: 7/7
Counters: Bane: 5, R: 4
Level: 300