Post by Goku on Jun 11, 2021 21:08:54 GMT -5
Were you referred?
: Yes, by Alex.
Discord Name
: Piccolo#0638
Starting Character
: Piccolo
Starting Planet
: Earth
Character Race
: Saiyan (JK - Namekian!)
Starting Stat Distribution
: (Canons = 5000 points) (Customs = 4500 points)



Strength: 1,000
Speed: 1,000
Toughness: 1,000
Stamina:1,000
Vitality: 1,000
Starting Trait Distribution
: (5 points)


Determination: 2
Charisma: 1
Intelligence: 2
Starting Technique
: Energy Wave - The most basic ki attack. It can be in either beam or blast form.
Starting Fighting Style
: N/A
Starting Stat Bonus
: N/A
Character Bio
:
Piccolo Jr. is the reincarnation of his father King Piccolo - who himself was once a part of the Nameless Namek - who fought a war over Earth only to be eventually killed by Goku. After being punched through the chest and killed by Goku's Penetrate! attack, King Piccolo's last action was to spit out an egg containing his child and reincarnation Piccolo Jr, who was to avenge his death. Upon Piccolo's birth, he still remembered all of King Piccolo's memories and techniques.[10] Piccolo Jr.'s egg eventually flows down a river and is found by an elderly woman. The woman gets her husband, and wonders what it is. Before they can decide what to do with the egg, Piccolo hatches. The newly emerged Piccolo then destroys their home. Piccolo Jr. spends the next three years in intensive training, preparing himself for the 23rd World Martial Arts Tournament, where he knew Goku would be a contestant, with the intent to kill him and realize his parent's dream of taking over the world. During the three-year wait till the tournament, Piccolo wanders the Earth and trains for his revenge against Goku. In the end of their actual battle, Piccolo loses narrowly, with Goku using flight on-screen for the first time and knocking Piccolo out of the ring with a headbutt. He is shown mercy when Goku gives him a Senzu Bean, which fully heals him instantly much to the shock and horror of his friends. Piccolo holds little gratitude for this act though and promises to continue his quest to destroy Goku and take over the world someday before leaving the tournament. Eventually, Piccolo gets over his intent to exact revenge upon Goku and decides to help him to protect this planet, no matter what it takes, since it's his home too...
Character Picture
:
i.imgur.com/nDbzf1R.jpg
Sample RP
:
"Four-hundred and ninety-six...four-hundred and ninety-seven...four-hundred and ninety eight...four-hundred and ninety-nine...five hundred"
Vegeta huffed and dropped out of push-up position, rolling onto his back. Sweat was pouring down the sides of his head as inhaled short, quick breaths and sat up. He was alone, in a hot forest, minding his own business and training when suddenly, there was a sharp pain in his gut. His stomach growled like a pterodactyl and he curled over, almost in absolute pain and agony. Obviously, it'd been quite sometime since he had eaten and his body didn't like it. Tired and annoyed that his body was forcing him to take a break from his training, Vegeta flew towards east side and landed on the outskirts. There were tons of establishments in this area where he could obtain nourishment and in his head, he was thinking steak and noodles. Down the road was a noodle house so he started walking towards the front doors.
A few minutes pass...
The Saiyan warrior is alone at a table in the crowded noodle house, working on his ninth plate of noodles and his fifth juicy steak when he starts to hear a lot of commotion outside. Shrugging it off with his 'who gives a fuck?' attitude, he continued to eat and realized that people were actually leaving the restaurant and fleeing in fear.
"Oh, what the fuck is happening now!?"
he asked out loud as he slammed his fists onto the table, breaking it in half. The table fell to the ground as he stood up and kicked his chair backwards out of anger before he stormed out of the noodle house with his fists clenched.
Upon exiting, Vegeta noticed a parade of tanks and trucks driving through town, the drivers were hollering and throwing stuff at onlookers, basically egging everyone on. Vegeta slowly lifted into the air and followed the gang of trucks and tanks before realizing that they were already at the Mayor's office in the center of town. Approaching the building he could see guys with knives and guns, they were holding the Mayor hostage, demanding ransom for his life, they were asking for two million zeni!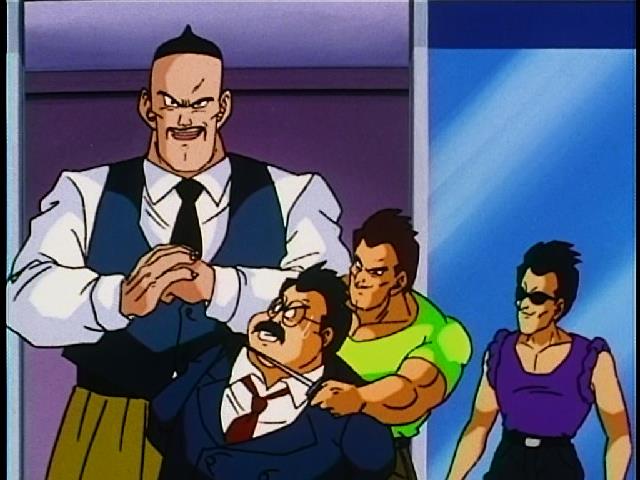 "Weaklings, the lot of you. Pathetic really...you need primitive weapons just to try and get some quick cash? You're all wretches of the lowest level"
he scolded as he gathered energy and fired eye lasers at the chest of the gangster who was wearing a purple shirt and watched him fly back into building's window, causing it to shatter. The 'built' guy wearing the green shirt looked back at his friend in amazement and got mad, deciding to rush at Vegeta with the knife cocked back, ready to do some damage. Annoyed, Vegeta watched his attacker come close to his form;
"Really?"
he asked as he stepped to the right to dodge a stab, then to the left, then he jumped into the air and did a double flip, landing behind the man where he then chopped him in the base of his neck, instantly knocking him out.
Seconds later, a limo pulled up behind Vegeta and the door opened, Vegeta slowly turned to see what was happening when he was attacked with a kiblast, which he deflected into the sky and raised an eyebrow. 'The hell!?' he asked himself as a man with red hair stepped out of the limo, his hands were mechanical and so was part of his face.
"I am Android #9 and I am here to get money donated to my cause...my cause is simple...to upgrade myself until I can control the city today and the planet tomorrow"
the man said as he fired another energy blast, aimed at Vegeta's chest. Vegeta batted it back at the man who held his hand out with his fingers spread wide and the circle in his mechanical hand seemed to absorb the energy. The man's gang just stared in awe as Vegeta an this man-droid person had words with each other;
"I don't give a shit what you want money for. I was eating and trying to enjoy my meal when you and your clowns disturbed me. THAT is what I care about. I don't like getting interrupted when I'm fucking eating!"
Vegeta shouted as he flared his aura and powered up. The man's eyes got wide and he leapt at Vegeta with his arms wide open and clenched him tight. Vegeta could feel the energy in his body being drained by the man as he struggled to get free. Flailing all about, he tried to shake the man off of him and trying to headbutt him to get off of his person. It didn't take but a few seconds for Vegeta to start feeling woozy and dizzy, and he legs began to tremble as he started to struggle to stand.
"Yes....yes! That's it! Give me all of your energy!"
the man shouted excitedly as he forced Vegeta to drop to one knee before he finally let go and stepped backwards, popping his neck and his back.
"Holy cow, I feel great!"
he exclaimed with a mad man's laugh behind it. Just then Vegeta smirked and gathered energy in his hand and feet and jumped up. One, two, three punches to the man's half metal head and a roundhouse to his face.
"You see, fat man...I'm only visiting here but I'll be damned if I let one of you peasant Human's ever even THINK that you can beat the likes of me. I am Vegeta, the Prince of all Saiyans and I'll be the one who ends you, right here, right NOW!"
scolded Vegeta as he flared is aura once again. The red-haired fat man stared at Vegeta in absolute fear and terror;
"W-what the hell are you!?"
he asked with a voice covered in horror, his feet scurried across the ground and scrambled to try and get up. Maybe a second later he was shot in the chest by an Eye Laser and by now his men had all run off, scared of what might come. Vegeta walked to man's body and noticed that he wasn't bleeding and he smirked and kicked him off to the side of the building where the trash gets picked up. With no reason to stick around here, Vegeta took flight and headed back to the noodle house to get full, now that the mice were taken care of.