Post by Dr. Ghast on Jul 31, 2021 18:09:01 GMT -5
EDIT: Champion lv 2, Battlerecorder, Combat rune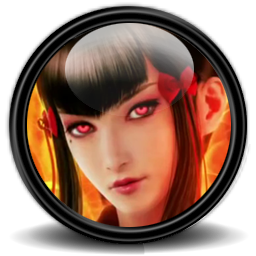 Another boring day in this place filled with inferior, disgustingly small minded people. It was nothing more than that, nothing more, nothing less. Halsey had just spend about two weeks on this backwater planet called earth and already she was already overwhelmed by her urge to sow dissent, chaos and death among those filthy slobs that called themselves humans. She was disgusted by their arrogance, which in its grandeur was only matched by their inane ignorance of their status among the many races in the vastness of the universe and even the multiverse. So in the end, was it truly that much of an unexpected occurance that the Primeval's patience would snap in the presence of such insanely foolish beings?
Sitting on a stool in a diner at the side of a road a few miles away from the outskirts of North City, Halsey was calmly slurping up the cold liquid which was still bubbling in her glass, playfully letting the plastic straw roll over her teeth before closing her lips upon the plastic tool yet again and taking a swig of the soda she had ordered about ten minutes earlier. Her gaze turned towards the corpses littering the place, all pathetic humans that had dared to anger her and to have the misfortune of being the straw which broke the camel's back in this occassion. It didn't really matter how it all happened, how those truckers, the family on vacation with their three children, the two waitresses and the cook came to their end. It didn't matter that it was messy, bloody and brutal, that it was hard to tell which part belonged to which person and what pool or splatter of blood came from which victim, all that truly mattered to the Demon...was that it was quiet, no more interruptions, no more screaming toddlers, no more groping truckers with a breath so laden with alcohol it would overload any breathalizer. Heck, even the two cops who had arrived on the scene a few moments after she had started her rampage, were now nothing more than stains on the wall.
Letting out a soft sigh of relief and joy, Halsey stood up from her stool, dropping a few coins in a severed hand laying on the counter with a chuckle escaping her lips. Without a care in the world, she calmly walked over to the exit of the diner, opening the door and taking a few paces outside. She wondered if she'd be having some afternoon exercise for herself, no doubt those cops should've passed on where they were going, maybe if Halsey was lucky...she'd actually be breaking a sweat this day. So in anticipation of whatever would dare to come her way, the woman carefully unbuckled the belt with the heavy weights from around her waist, making said belt vanish into thin air, while a large, sinister looking black and silver scythe materialized itself onto her back. Same went for her shimmering golden garments which she kept atop her extremely weighty clothes, tossing those aside while manifesting a small cap on her left forearm which looked oddly smilar to a beetle's backside.
Stretching a bit, Halsey let out a moan when the vertebrea in her back started to pop. "I really need something better than those inferior lowlives to have some fun."

Actions:
1. First Post
2. Swap Gravity Weights for Adamantium hardened death's scythe of fire and fortune
3. Swap Garb of the Lost of training and fortune for Hardened Cap shield
4. Loiter


Prepped Items:

Senzu Bean, Adamantium hardened death's scythe of fire and fortune, Hardened Cap shield, Arlian Hive, Demonhorn

Prepped techniques:

Verberation blade, Windmill, Thunder Axe, Frost Spear, Sword grappling, Bloodeater, Rising Claw.

Important Notes:

Tactician lv 2: +1 action after two posts.
Gracefull Lv 2: +12% speed in battle.
Champion lv 2: Increases battle and spar rewards by +15%
Combat Rune: +10 exp/battle

7 weighted items remaining: -175 all stats

Bonus Physical Damage: 14%
Damage Reduction: 0%

Counters:

Rem: 5/5
Cauli: 5/5

Powerlevel + Bonus|Detriment

Power Level: 40,000/425,288 [423,888]
Ki: 20,000/212,644 [211,944]

Strength: 54,434 [62,050]
Speed: 64,825 [75,640]
Toughness: 56,739 [67,040]
Stamina: 50,877 [50,702]
Vitality: 50,594 [52,498]

Determination: 1,235
Charisma: 1,235
Intelligence: 3,141

P.S. If I'm missing something, don't worry and call me out on it.
---
WC 572|TWC 572