Post by Dr. Ghast on Oct 25, 2021 7:50:36 GMT -5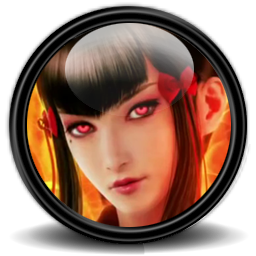 Champion LV2, Combat Rune
It was a surprisingly cold day on Kelioux, with rain clouds covering the sky and darkening the surroundings. Halsey wouldn't be surprised if there was a thunderstorm brewing in the heavens, but she had other things to worry about. She was in the search for a man, a demon she had met during a small altercation in the astral realm. Though she had gathered that in terms of raw strength, the man was quite a notch below her, she could not get rid of the image of that demon's swordplay and the disagreement they had was enough fuel for her to truly think a fight with more at stake would be much more enjoyable. After all, had he not said that if she could not kill him, she was not the one he was looking for?
Finding herself outside of the so called habitable zone, on a field which still showed the devastation which had been wrought upon the planet's surface many eons ago, Halsey reached for the large blade on her back and raised it over her shoulders, suddenly plunging it into the ground with great enough force for the ground to crack and split open, like an overripe melon showing its scarred and pungent flesh. This was not done to show or display her strength, but merely to see what kind of place she'd be having her little bout. After all, she was quite certain that if a demon could pick up not just the scent, but the signature of another demon, they'd come flocking just to either bow down in reverence or to claim that power for themselves. If anything, Halsey truly hoped that this...Legion was more akin to the latter sort of demon.
Having released the restraints on her supression to such a degree that her ki felt like it was quite overflowing, Halsey let out a sigh in relief and leaned slightly forward on the Xodus she had planted into the ground. "All we do now is wait, I guess..."
Free: Ki supression to 75%
A1-3: wait
A4: lost
S: wait some more

Prepped Items: Senzu Bean, Hardened Skin, Demon Horn, Arlian Hive, Elder Gem

Prepped weapon techs: Healing blade, Verberation blade, Windmill, Improved windmill, Improved Cripple, Rising Claw, Aura shatterer, Blood eater, Mortoseth Shadow assault.

specials|passives: Ki suppression, Ki mastery lv3, Improved speed teleport [+65% spd], Reversal, Sense, Maneuvers, Transmute energy, Stronside, Shishio, mimic, sword grappling, Dulled senses.


Notes:
Damage Reduction: 20%
Bonus damage: +34%
Physical damage: +5%

Counters: 5/5
Speed teleport: 8/8
IT: 1/1


Stats-Current|base full power

Power Level: 431,460|575,280
Ki: 215,730|287,640

Strength: 69,048|72,245
Speed: 72,902 |82,375
Toughness: 89,665 |74,419
Stamina: 55,728|70,837
Vitality: 55,058|70,139

Determination: 2,010
Charisma: 1,410
Intelligence: 4,266


---
WC 335